Different professionals and trades require different pliers to get the job done. Pliers are used in a wide variety of applications, including construction, aviation, manufacturing, and many more. Professional pliers may not be as widely sold as household pliers, but they are essential to the diverse range of industries that use them. Pliers are an excellent example of how humans can make tools to help others accomplish tasks that would otherwise be impossible with raw strength alone.
Pliers are a tool that has a lot of parts and all of them have a function. All of the parts do something different for the plier to work.
Tip – This is at the end of the pliers and it is used for anything round.
Pipe Grip – These are for gripping pipes.
Cutters – This part is for cutting wires and cables.
Jaws – The working end of the pliers is what does the gripping.
The pivot point/

fulcrum

is where the handles meet and can open up again. This is how the jaws move up and down.
Handles – You can have curved or straight handles on your pliers.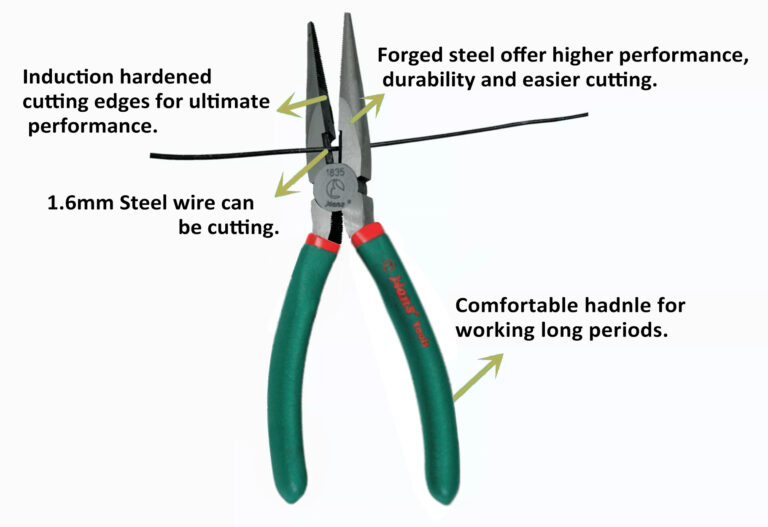 There are couple different handles from HansTools categories: If we make it divided into Plastic Injection- European/German Style and PVC Dipping by American Style. Different manufacturing processes which providing users different function and operating comfort.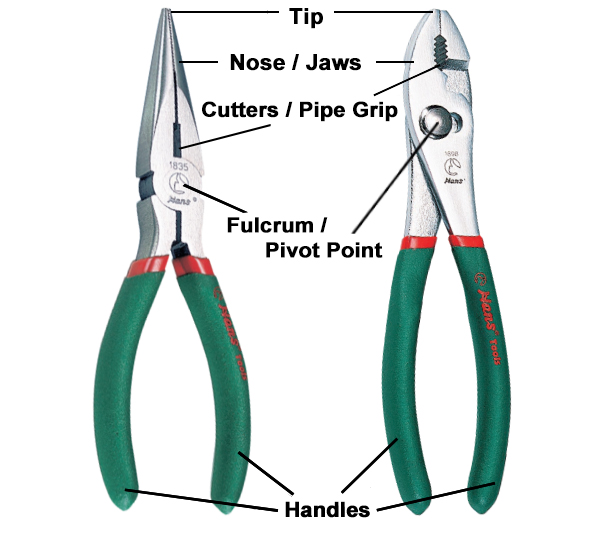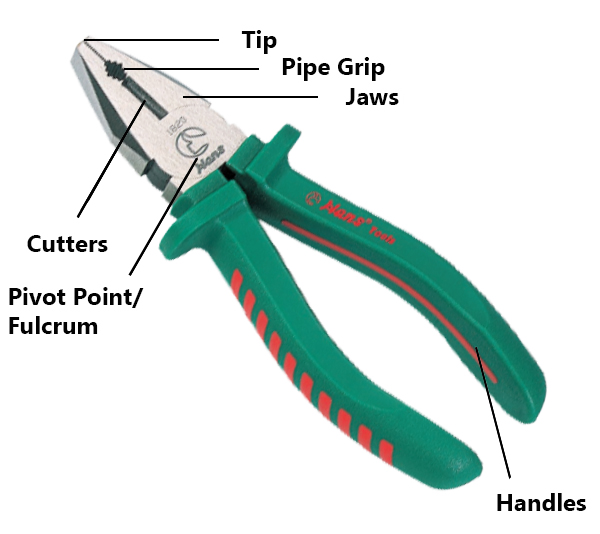 1893 Like long needle-nose pliers, angle pliers are used to reach into tight, cramped spaces where fingers don't stand a chance. The serrated edges of their jaws give the pliers even more gripping power. They're also good when you need a better view of the work you're performing, since their angled tips provide added visibility to your work area.
1882 Plier is a hand-held wire-stripping tool designed to quickly, cleanly, and easily strip wires of their protective coating. Built for durability and longevity, this lightweight device features an ergonomic handle and is available in a variety of sizes. A tension spring allows the handles to be easily squeezed together, auto-returning them to the open position when pressure is released.
Hans Tools Metal Snip provides powerful cutting leverage to cut through steel, stainless steel, sheet metal, and tin. It is a durable tool that cuts on both the pull and push strokes, allowing you to work at a fast pace. Its blade stays sharp for clean cuts through all metals, and a cushioned grip handle reduces hand fatigue.
Bent nose pliers can grab onto hard to reach places, open and close jump rings, or shape wire. The bent angle of the tips allows you to see your work without the handles getting in the way of your line of sight. If you're looking to clean up a cut, they can help keep your hands out of harms way by letting you get in close.
High-quality cutter, forged with chrome vanadium steel and coated with PVC for a comfortable grip. The high-leverage design cuts 4/0 aluminum and 2/0 copper. The cable cutter is long-lasting, easy to use, and can be used by both left and right handed people. Use the heavy-duty cutter for improved grip, or a lighter cutter for precision work. It's a one-handed cutting tool that makes cutting that much easier. This industrial grade cable cutter has been thoroughly tested before it came on to the market, and is perfect for both left and right handed people.
are special pliers that are used to remove the steel ring from a rotating shaft. The tool has an open head and a curved handle, and it is mainly used in the automotive industry to fasten, remove, or apply device clips on components.
are made for installing or removing internal circlips found on bearings and internal shafts.
is a multipurpose tool that can have three or more operating functions. It has gripping jaws, a cutting edge, and insulating handle grips that reduce (but don't eliminate) the risk of electric shock from contact with live wires. The combination pliers is designed to be used in all situations.
are used to press materials together and create a seal or crimp, so they are often referred to as crimping tools. They may be used to join wire or string ends, hold them firmly in place, and attach clasps, among other functions.
allow you to reach difficult-to-access areas without sacrificing the precision of a standard pair of wire cutters. With the offset blade, which is about 15% off of a diagonal, the tool can cut wires flush with surfaces and remove pins and nails from wood and plastic.
The head of this tool is uniquely shaped to allow for a variety of uses. It is capable of cutting through both soft or hard wire, as well as steel mesh knots. Additionally, it can be used to twist and cut binding wire, making it a practical tool for any construction worker. The head of this tool is made from high-grade special tool steel that is forged and oil hardened at multiple stages to make it durable.