1154M/A-德式亮面双开口扳手 Double Open-End Wrench
1154M/A-德式亮面双开口扳手 Double Open-End Wrench
German Style
Clés à fourches
Podwójny klucz płaski
Doppelmaulschlüssel
Llaves fijas de dos bocas abiertas
وجع نهاية مفتوحة مزدوجة
ประแจปากตายคู่
亮面雙開口扳手
DIN 3110- ISO 3318
ASME B107.9M
An-Lock Drive® (Superb Torque)  has one goal in mind and that is to help you get the job done right. With features like heads that reach tight spaces, serviceable reversing levers, and grips that prevent slippage, An-Lock makes it easier for you to get the job done faster and right.
Wrenches are an essential part of any tool box. Each type of wrench is designed for a specific application, so you need to have the right size and style of wrench on hand.
There are many different varieties of open-end and box wrenches including ratcheting, crescent, cheater bar, combination, straight, and socket.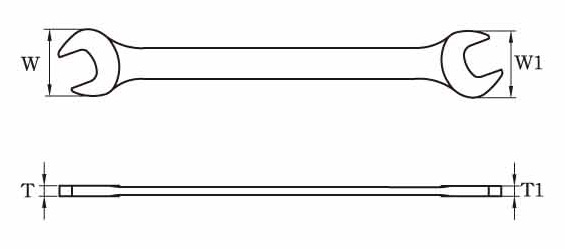 1154M
(mm)
W
(mm)
W1
(mm)
T
(mm)
L
(mm)

g

pcs
6x7
15.5
18
3.7
123
22.8
12
6x8
15.5
18
3.7
123
22.8
12
8x9
20.4
22.7
4
140
31.8
12
8x10
20.4
22.7
4
140
31.8
12
10x11
24.9
27.1
5
156
54.8
12
10x12
24.9
27.1
5
156
54.8
12
11x13
29.2
31.2
5.5
172
73.6
12
12x13
29.2
31.2
5.5
172
73.6
12
12x14
29.2
31.2
5.5
180
73.6
12
13x14
33.3
35.3
5.9
180
108.1
12
14x15
33.3
35.3
5.9
180
108.1
12
14x17
37.1
38.9
5.9
204
138
12
16x17
37.1
38.9
6.3
204
138
12
17x19
40.9
42.8
6.7
210
155
12
18x19
40.9
42.8
6.7
220
168.1
12
18x21
44.8
48.8
7.1
237
211
12
19x21
44.8
48.8
7.1
237
211
12
19x22
44.8
48.8
7.1
237
211
12
20x22
44.8
48.8
7.1
237
211
12
21x22
44.8
48.8
7.1
237
211
12
21x23
46.8
50.8
7.7
247
238
12
22x24
46.8
50.8
7.7
247
238
12
23x26
51.2
56.8
8
263
316
12
24x26
51.2
56.8
8
263
316
12
24x27
51.2
56.8
8
263
316
12
25x28
54.8
61.3
8.5
279
350
6
27x29
65.4
69.8
9
298
495
6
27x32
65.4
69.8
9
298
495
6
30x32
65.4
69.8
9
298
495
6
1154A
(inch)
W
(mm)
W1
(mm)
T
(mm)
L
(mm)

g

pcs
1/4x5/16
15.5
18
3.7
123
22.8
12
5/16x3/8
20.4
22.7
4
140
31.8
12
3/8x7/16
24.9
27.1
5
156
54.8
12
7/16x1/2
29.2
31.2
5.5
172
73.6
12
1/2x9/16
29.2
31.2
5.5
180
73.6
12
9/16x5/8
33.3
35.3
5.9
190
108.4
12
19/32x11/16
37.1
38.9
6.3
204
138
12
5/8x11/16
37.1
38.9
6.3
204
138
12
5/8x3/4
40.9
42.8
6.7
210
155
12
11/16x3/4
40.9
42.8
6.7
210
155
12
3/4x7/8
44.8
48.8
7.1
237
211
12
13/16x7/8
44.8
48.8
7.1
237
211
12
7/8x15/16
46.8
50.8
7.7
247
238
12
7/8x1-1/16
51.2
56.8
8
263
316
12
15/16x1"
51.2
56.8
8
263
316
12
1"x1-1/8
54.8
61.3
8.5
279
350
6
1-1/8x1-1/4
65.4
69.8
9
298
495
6