1807- 美式尖嘴万能夹钳 Long Nose Locking Plier
1807- 美式尖嘴万能夹钳 Long Nose Locking Plier-(Standard Curve Jaw)- Heavy Duty
Long Nose Locking Plier- Standard Curve Jaw- Heavy Duty(American Model)+ Wire Cutter
Pince-étau à becs longs et fins
Amerykański szczypce zaciskowe wydłużone
Amerikanische Langbeck Gripzange
Mordazas de presión, bocas largas
كماشة قبضة لانجبيك الأمريكية
คีมล็อคปากแหลม
美式尖嘴萬能夾鉗
Made by Chrome-Moly handle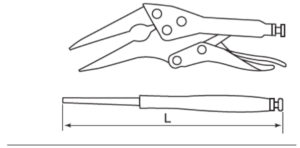 Locking pliers are available in many different styles, sizes, and shapes. They are the kind of pliers that lock themselves in position with an "over-center" cam action. Locking pliers are most commonly used for many different functions, including fixing metal parts for welding.
Made by Chromium-molybdenum alloy steel (chrome. moly)
is an alloy used for high pressure and temperature use. It is used in oil and gas, energy, construction and the automotive industries because of its corrosion resistance and high-temperature and tensile strength.
1807
L
mm(inch)

g

pcs
6
162(6-1/2")
179
12
9
225(9")
347
12