快脱式扭力扳手 Micro Torque Wrench (Lock-up Setting)- 1/4", 3/8", 1/2", 3/4"
快脱式扭力扳手 Micro Torque Wrench (Lock-up Setting)- 1/4″, 3/8″, 1/2″, 3/4″
Adjustable torque model for clockwise tightening.

The model applied on 1/4″, 3/8″ 1/2″, 3/4″ Drive, apply for N.m and ft lbs (Newton-metre, foot-pound)
Clés dynamométrique
Klucz dynamometryczny
Drehmomentschlüssel
Llaves dinamométrica
مفتاح العزم
ประแจวัดแรงบิด
扭力扳手
2170GN/ 3170GN/ 3171GN/ 4170GN/ 4171GN/ 6170GN/ 2170GI

/

3170GI/ 3171GF/ 4170GF/ 4171GF/ 6170GF
Sensible and audible alarm on reaching preset torque value
Plastic Green Handle
DIN EN ISO 6789
DIN 3120 – ISO 1174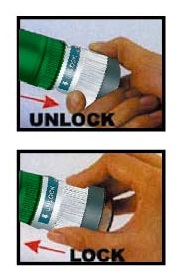 A torque wrench is an essential tool for ensuring that bolts are tightened to the correct specification. They are made from chrome vanadium steel for strength and durability, and have a ratchet head that allows them to be used for clockwise or anti-clockwise torque. The handle is knurled for a good grip, and when the required torque setting is reached, the wrench produces an audible click and a slight release of tension.


DRIVE
ITEM NO.
CAPACITY
N · m
ITEM NO.
CAPACITY
FT-LB
(INCH-LB)
L
mm / inch

g
1/4"
2170GN
6-30
2170GI
40-250
INCH · LB
290 / 13-3/4"
900
3/8"
3170GN
6-30
3170GI
40-250
INCH · LB
295 / 13-3/4"
900
3/8"
3171GN
20-110
3171GF
15-80
FT · LB
380 / 15"
1180
1/2"
4170GN
40-210
4170GF
30-150
FT · LB
535 / 21"
2100
1/2"
4171GN
70-350
4171GF
50-250
FT · LB
650 / 25-1/2"
3110
3/4"
6170GN
100-500
6170GF
50-300
FT · LB
865 / 34"
4730
BLOW CASE FOR EACH