扭矩扳手 Professional Torque Wrench- 1/2" Drive
扭矩扳手 Professional Torque Wrench- 1/2″ Drive
Clé dynamométrique professionnelle
profesjonalny klucz dynamometryczny
professioneller Drehmomentschlüssel
Llaves dinamométrica profesional
وجع عزم الدوران المهنية
ประแจแรงบิดมืออาชีพ
扭力扳手
DIN EN ISO 6789
DIN 3120 – ISO 1174
ASME B107.300-2010
Tolerance of torque ±4%
A torque wrench is an essential tool for ensuring that bolts are tightened to the correct specification. They are made from chrome vanadium steel for strength and durability, and have a ratchet head that allows them to be used for clockwise or anti-clockwise torque. The handle is knurled for a good grip, and when the required torque setting is reached, the wrench produces an audible click and a slight release of tension.
Square Drive
ITEM NO.
Teeth
CAPACITY
N · m
CAPACITY
FT · LB
L
(mm)

g
1/2"
41774GN-210
24
20-210
2.6-20.9
461
1250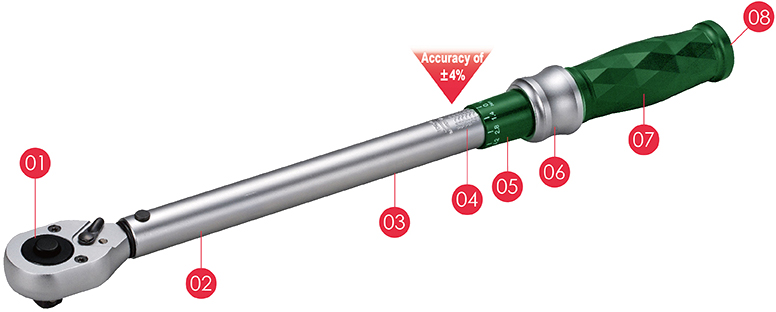 Features —
Ratchet head: A highly robust ratchet mechanism for CW and CCW directions application. Quick released design for changing socket quickly. Repair kit for inner spare parts of ratchet head is available.

Reliable mechanism: The robust and resistant fully chromed steel tube. Audible and palpable signal indicates automatically when the desire torque value is achieved.

Serial number: Each piece stamping serial number for traceability.

Scales: Fine engraving marking scales on the front and back.

Micrometer scales: Precise adjustment by visible micrometer laser scales on handle ensure optimal and simplified readings while operation. The micrometer scales for precision adjustment is in integral values, for user easily take round figure while operation.

Lock-ring: Easy torque adjustment lock-ring mechanism, press down the Lock-ring brings energy saving and automatically lock device to avoid accidentally altering setting.

Handle: Unique diamond- shape plastic handle design for impact resistance.

Bottom cover: Plastic polyethylene bottom cover.